Some folios will not work on an iPad or iPhone.
Recent work ...


Colac Country Music and Truck Shows, 2006-2011

A gallery of photographs taken at the Colac Country Music Truck and Ute Shows, held in February each year until 2011 at the Colac Showgrounds.
This event brought lovers of country music together, along with a convoy of trucks and utes competing for trophies.
Beeac 150th Anniversary Celebrations, October 2010

A gallery of images from the town of Beeac in Western Victoria, celebrating its 150th Anniversary and the opening of a windmill park.
In a country where water is often a scarce commodity, windmills have become an iconic component in the Australian rural landscape. and with several windmill builders operating once in the area, the town's community established a Windmill Park, exhibiting historic windmills built from parts scavenged from local farms. The Park is seen here on the occasion of its opening day, during the town's 150th anniversary celebrations on 23 October 2010. Much of the water used by farmers in the surrounding area is drawn from bores traditionally pumped to the ground by such windmills.
Camperdown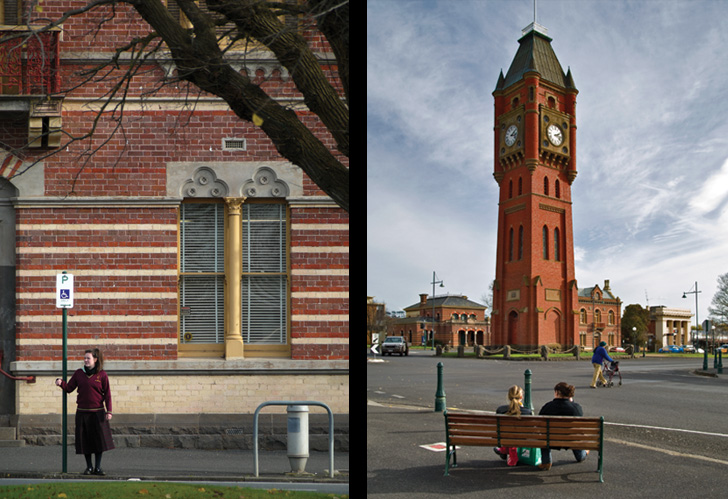 My 2010 entry into the annual Solo Photo Book in a Month event. The work focusses on the town of Camperdown in the Western Distict of Victoria, Australia. In this event, several hundred photographers from around the world produced a photographically based book from scratch within a month, including all text and photographs, along with laying the work out as a book which could be published in print form.
Click here to view or download the book.
Sadly, as of January 2012, it appears that the Solo Photo Book in a Month event is over.


Clunes
State Savings Bank, Clunes, 3 October 2009.